5. Inspector Chester Campbell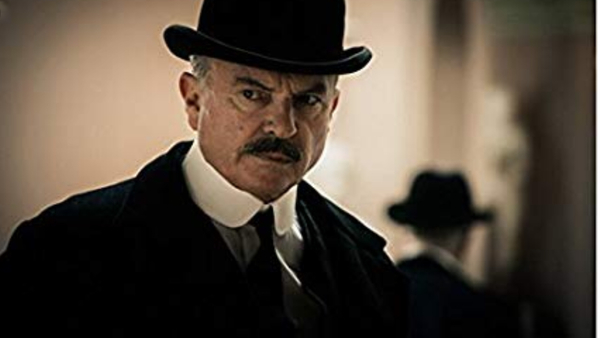 As Thomas Shelby opines, getting shot by a woman hurts just the same as being shot by a man.
A man who would concur with that statement meets his comeuppance in easily the most satisfying death scene from the cobbles of Birmingham; psychotically twisted Belfast policeman, Inspector Chester Campbell, played in an exceptional performance by Sam Neill.
Campbell, a foreboding antagonist devoid of moral qualms at the start of the show, steadily devolves into an appalling psychotic perpetrator of corruption and sexual violence before his downfall in the finale of the second season.
Neill brilliantly conveys Campbell's smug sense of infallibility as he is confronted by a gun wielding Polly in a phone box; seeking revenge for his heinous assault on her earlier in the season. The deliciously satisfying moment where Campbell realizes his life is truly in danger and pathetically pleads for mercy is absolutely peak revenge soaked TV, capped off in thrilling climactic fashion as the Shelby matriarch coldly dispatches the Blinders' most dangerous enemy to date.
The scene was particularly shocking as Campbell had the been the main antagonist of the show since it began, and had seemed infallible due to his high ranking position and connections within the intelligence community. However, Polly's final words to Campbell as he gasps his last desperate breaths and the now immortal staple of pop culture, send a stern warning to anyone who might cross the gang in the future.
"Don't f*** with the Peaky Blinders."