7. Bonnie Gold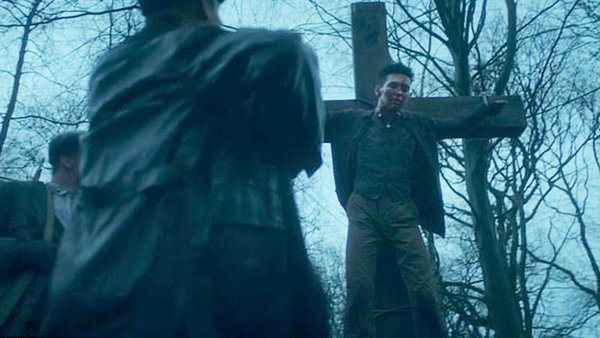 One of the most shockingly visceral deaths ever seen on TV, and easily the most visually horrifying instance throughout Peaky Blinders is the demise of champion gypsy boxer and son of Aberama Gold, Bonnie Gold.
He and his father are ambushed at their camp by the Billy Boys, a rival Glasgow based Protestant razor gang. Led by the loathsome Jimmy McCavern, their attack is an ominous message to Tommy that they are done with operating subservient to the Blinders. Hopelessly outmanned and outgunned, Bonnie surrenders his weapon.
In the cruellest of ironies, Bonnie's otherworldly fighting abilities do him no good here. Mocking his status as an elite fighter, McCavern proceeds to mercilessly beat the young gypsy to within in an inch of his life before his goons hoist the barely breathing boxer up onto a wooden cross.
The merciless Scot performs the coup de grace on a crucified Bonnie in front of his anguished father in an unfathomably traumatic scene. McCavern leaves a mocking note on Bonnie's body, issuing a chilling warning that if their demands are not met, Tommy will be next on the cross.
"And there will be no resurrection."
The sheer brutality of the killing coupled with the devastated sobs of a heartbroken father make this one of the most gripping, harrowing death scenes that the BBC, or TV as a whole has ever produced.
In the immortal words of Alfie Solomons, "it was f****** biblical mate".